Home

New Release Available now!
SHADE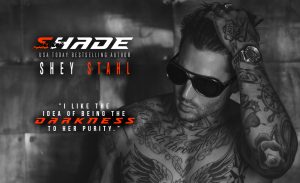 I'm the best freestyle motocross rider in the world, or so they tell me. All right, I'll admit it. I know I am. I'm living the dream but am haunted by the memory of a girl who destroyed me.
My life's spinning out of control. I'm living a life on the edge, performing death-defying stunts high above the air, but it's beneath the helmet where I can't seem to get my head right.
And then Scarlet Rose and her wild mess of blonde curls crashes into my life.
She's beautiful and completely immune to anything I say or do. From the moment she denies me, my desire is obsessive, all-consuming. What is it about Scarlet I can't seem to resist?
Why her?
I was hired to do a job. Keep Shade Sawyer and his tenacious adrenaline-driven brothers in line.
Easy enough, right? Nope. Despite having no clue what a personal assistant does, I'm given the lucrative job I've been dreaming of to get me out of Seattle.
Just when I think it can't get any better, I'm left with an alarming clause in the contract. "Under no circumstances can you engage in sexual relations with Shade Sawyer."
Didn't see that coming.
Here's the problem. He's never been denied by any woman before, and now he's determined to get me in his bed. He's fiercely competitive and tests my limits.
Ignoring him won't be easy. Not when he's looking for a podium finish.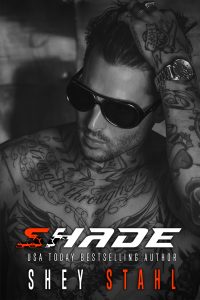 ---
Unbound, book 3 in the TORQUED trilogy, is now available on Kindle, iTunes, Kobo and Nook. Check under the books tab for links.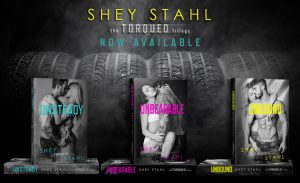 ---
Please note parts of this site are presently under construction.
Shey Stahl is a USA Today best selling author. She first began self publishing in 2012 with her series Racing on the Edge. Now she's the author of more than twenty new adult, contemporary romance, erotic, young adult and suspense. Shey enjoys writing about the heavier subjects, the ones most fear to tackle. Whether it be a small town girl in love with a rising NASCAR star or an all heart hockey player rescuing a beaten girl from an alley, her words tear at your heart and leave you craving more.
Currently she lives in the Pacific Northwest with her family and can usually be found at the local dirt tracks cheering on the local sprint car drivers.