Home

Burn is now available for PRE-ORDER
From USA Today Bestselling Author Shey Stahl comes an unforgettable standalone about desire, love and the burn controlling them.
Milena Wellington, general manager of the Wellington Plaza, may have been raised in a world of privilege, but she's worked hard for her professional success, and she's not about to let anyone take that from her. The problem? Her love life is in shambles, she's sleeping on her friend's couch, her coworkers are constantly plotting behind her back, and she's stalking an intense, slightly arrogant, tattooed firefighter she had a one-night stand with.
Being a firefighter was never a choice for Caleb Ryan. His destiny was decided when his life was shattered. He's never veered from the course and temptation has never led him astray. The problem? Women serve a purpose, but love… he's incapable of it. That is until he can't stop thinking about the witty yet incredibly sexy brunette he met Christmas Eve. For one night, this exotic beauty sparked a fire inside of him, and he can't let her go.
What happens when they can't ignore the burn?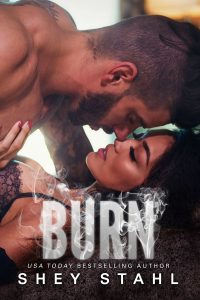 ---
Unbound, book 3 in the TORQUED trilogy, is now available on Kindle, iTunes, Kobo and Nook. Check under the books tab for links.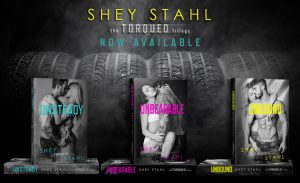 ---
Please note parts of this site are presently under construction.
Shey Stahl is a USA Today best selling author. She first began self publishing in 2012 with her series Racing on the Edge. Now she's the author of more than twenty new adult, contemporary romance, erotic, young adult and suspense. Shey enjoys writing about the heavier subjects, the ones most fear to tackle. Whether it be a small town girl in love with a rising NASCAR star or an all heart hockey player rescuing a beaten girl from an alley, her words tear at your heart and leave you craving more.
Currently she lives in the Pacific Northwest with her family and can usually be found at the local dirt tracks cheering on the local sprint car drivers.