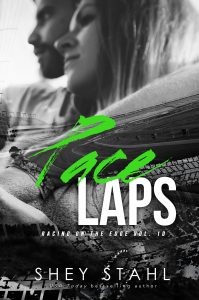 Everyone has an image of Jameson Riley they can't forget. Invincibility.

They believe it and essentially create it themselves. It's his rough and tough exterior, reckless attitude, never hesitant and rarely questioned persona. He's born and bred to be this way, sliding two-wide through life, living on the edge of the cushion.

He's a king. A legend.

Some think he's indestructible. He can't fall, right?

What happens when he falls before the woman that holds his heart? He'd gladly give it to her, too.

Let her have it to survive this. But in his heart, he knows what they have is a bond, a foundation that will get them through pace laps.

Authors Note: This book is part of the Racing on the Edge Series and shouldn't be read until the others are read. Due to explicit language and sexual situations, it's not suitable for anyone under the age of 18.